Akvo Foundation's Caddisfly smart phone-based water quality testing system connected to an online data platform supports the Aquagenx CBT E. coli Kit as microbiological water quality test-of-choice for national surveys
Chapel Hill, North Carolina – Aquagenx, LLC, provider of portable water quality test kits used throughout the world for on-site testing, announced the Aquagenx™ CBT E. coli Kit is being used in a large-scale water quality survey in Sierra Leone. The Akvo Foundation, in partnership with the Ministry of Water Resources in Sierra Leone and UNICEF, is monitoring household drinking water quality in 1100 communities and at 600 different water sources.
In Sierra Leone, less than 40% of households have access to safe drinking water. Fecal contamination of drinking water poses a serious health threat. The lack of large-scale, reliable, real-time data on water quality has made it difficult for the government to effectively address and solve its nation's water quality crisis.
Mert Blommestijn at Akvo Foundation says, "We selected the Aquagenx CBT E. coli Kit as a fit-for-purpose microbiological water quality test after an exhaustive study of available tests. By connecting the CBT with the Caddisfly app, we are able to give communities in remote areas instant and valuable feedback on drinking water safety based on WHO health risk categories. The CBT is easy-to-use, and provides reliable quantitative results in a  cost effective way, especially for low resource, rural areas. We are excited to partner with Aquagenx as the CBT adds value in the typical programs in which we're involved."
Lisa Hirsh, Director of Sales & Marketing at Aquagenx remarks, "We're thrilled to work with the Akvo Foundation in the Sierra Leone project and in other projects around the world. Akvo's Caddisfly app is a powerful tool that turns a smart phone into a fast, simple and scalable water quality test system. Caddisfly, together with our CBT E. coli Kit, enables rapid data sharing, analysis, visualization and decision making. All of these things are crucial for governments and other entities to build capacity, and to monitor and sustain good water, sanitation and hygiene systems."
"Even better," continues Hirsh, "Akvo is more than a mobile data platform provider. They work hand-in-hand with partners and provide everything from training, parameter selection, survey design, project planning, data analysis and sector expertise to technical support."
This project is one of the first large-scale water quality assessments in Sierra Leone. The comprehensive datasets are stored in shared open source data portals, which allow the Sierra Leone government and its citizens to make informed decisions about water quality services and systems at the local and national level in order to take the most appropriate corrective actions.
About Aquagenx, LLC: Aquagenx provides portable water quality testing products that simplify on-site, field-level testing in low resource, rural and disaster/emergency areas. Their water quality test kits are easy for anyone to use with little training. Aquagenx test kits are used in 120+ countries around the world. Aquagenx started providing their products in 2013 and they are based in Chapel Hill, North Carolina USA.
About Akvo Foundation: Akvo Foundation has worked with over 20 governments and 200 organizations in more than 70 countries to improve implementation of development projects and decision-making using data. Akvo's combination of services, local expertise, sector knowledge and data tools, helps their partners improve the management of water, sanitation and agriculture.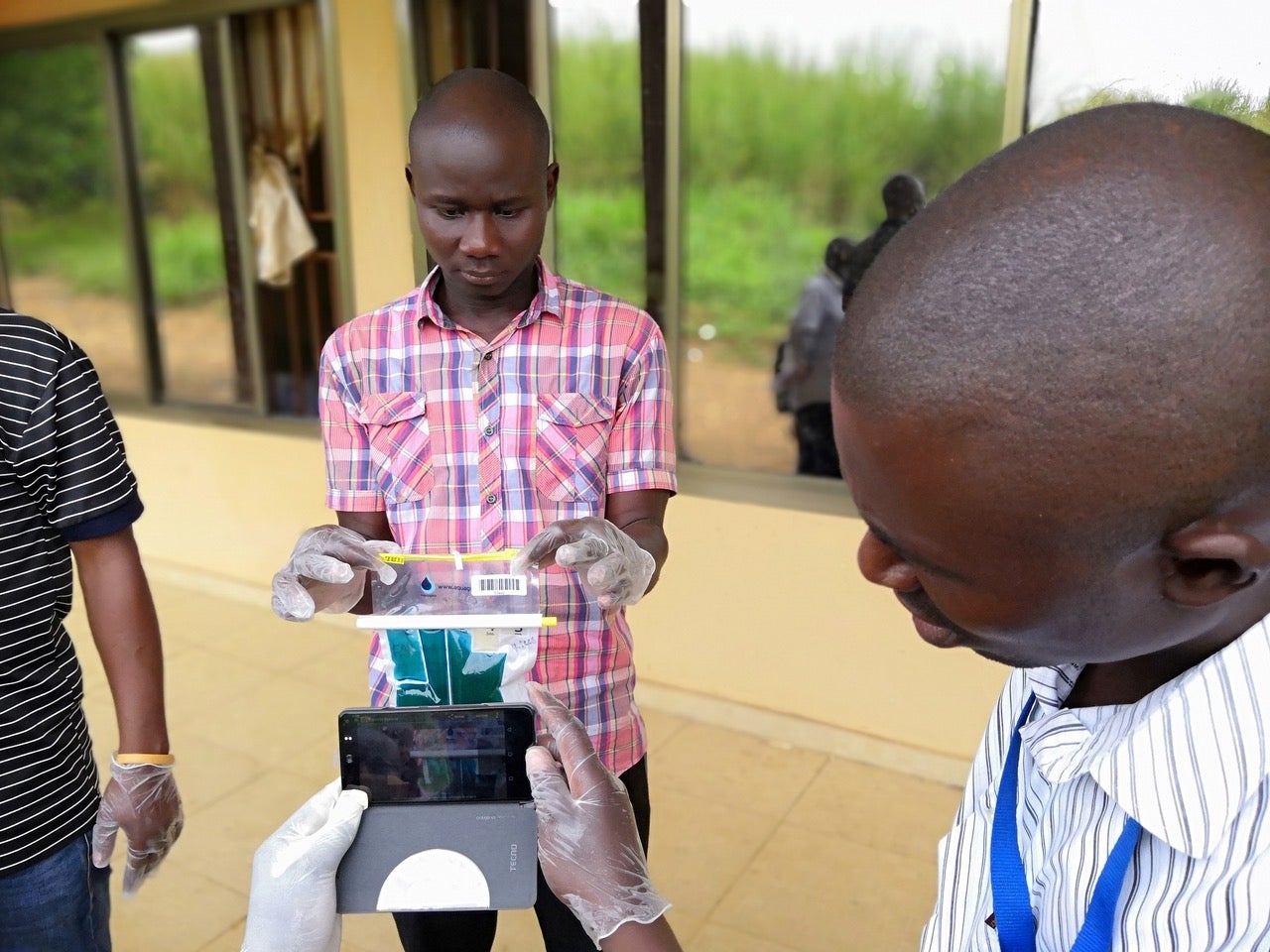 Contact:
Lisa Hirsh
Aquagenx, LLC
Director Sales & Marketing
Telephone: 1+919-590-0343
Email: info@aquagenx.com