Aquagenx GEL EC Kit

Quantifies Colony Forming Units (CFU) of E. coli in 100 mL
CFU Test Results in the Field Without Membrane Filtration Equipment
Rapid and Robust E. coli Water Quality Test Kits CFU/100 mL
Features of GEL EC CFU Kit
No electricity, lab, cold chain or expensive, complicated equipment required

Designed for on-site field testing in low resource, rural, remote and disaster/emergency areas

Simple and easy to use

Blue/Blue-Purple E. coli colonies easy to identify and count
Upper detection limit for drinking water is 200-300 CFU of E. coli

Ambient temperature incubation at 25° Celsius and above

Ambient temperature test results in 20-48 hours

Works at variable temperatures, constant temperature control not required

Two-year shelf life of growth medium

Compact and lightweight, small number of consumables

Meets World Health Organization Guidelines for Drinking Water Quality

Also used to test surface waters with 1:10 Dilution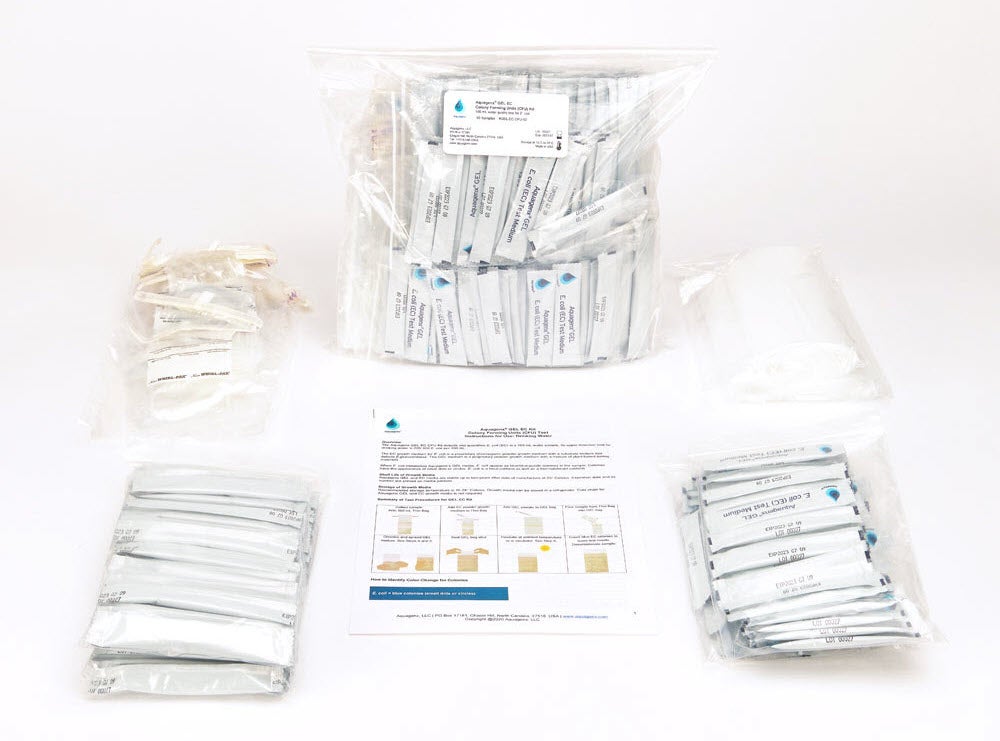 Image: GEL EC CFU Kit 50-Pack
WHO GEL Kit Report
The World Health Organization (WHO) engaged KWR Laboratory in The Netherlands to evaluate the Aquagenx® GEL EC CFU Kit. This initiative was partly driven by the UNICEF Rapid Water Quality Testing Project. Our test was evaluated against reference method IDEXX Colilert Quanti-Tray 2000, a lab-dependent test designed for testing wastewater and surface waters. Colilert Quanti-Tray 2000 has 96 wells that can quantify up to 2419 MPN of E. coli/100 mL.
Despite the difference in sensitivity between the two tests for very high concentrations of bacteria, our GEL EC CFU Kit performs extremely well and compares favorably against Colilert Quanti-Tray 2000 in lower ranges of bacteria levels relevant to drinking water testing and quality. Our GEL test provides precise colony counts of E. coli in 100 mL samples.
The GEL EC CFU Kit also receives high marks for usability.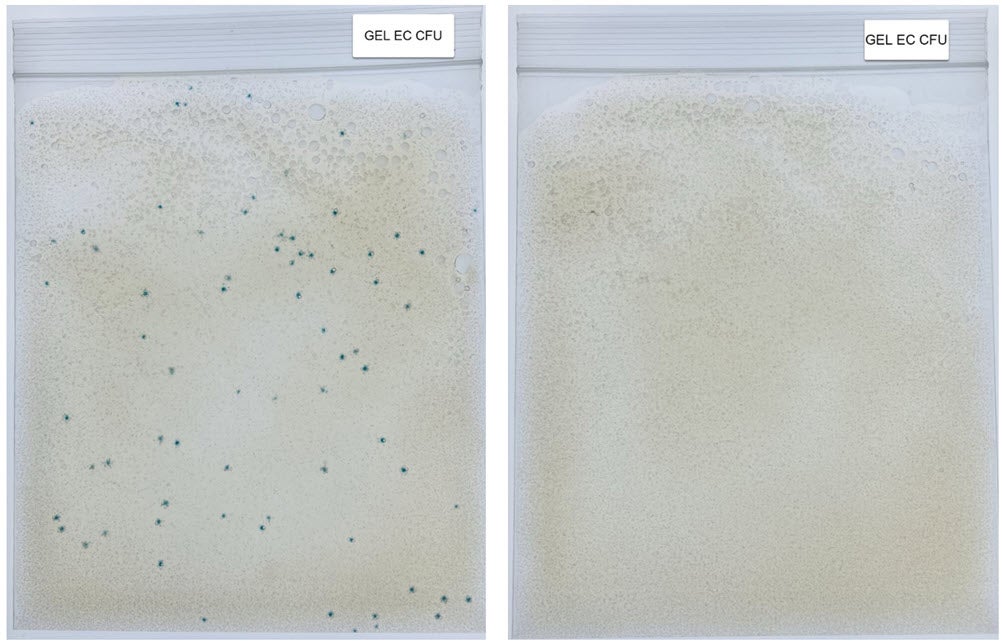 GEL Bag with blue E. coli colonies                  GEL Bag with zero E. coli colonies
Product Number: GEL-EC-CFU-25
25 samples
Kit contains:
25 Aquagenx GEL E. coli growth medium packs
25 GEL powder packs
25 100 mL Stand-Up Whirl-Pak® Thio-Bags
25 reclosable plastic GEL bags
Product Number: GEL-EC-CFU-50
50 samples
Kit contains:
50 Aquagenx GEL E. coli growth medium packs
50 GEL powder packs
50 100 mL Stand-Up Whirl-Pak® Thio-Bags
50 reclosable plastic GEL bags
Product Number: GEL-EC-CFU-100
100 samples
Kit contains:
100 Aquagenx GEL E. coli growth medium
100 GEL powder packs
100 100 mL Stand-Up Whirl-Pak® Thio-Bags
100 reclosable plastic GEL bags
Compare GEL Kit to Membrane Filtration Tests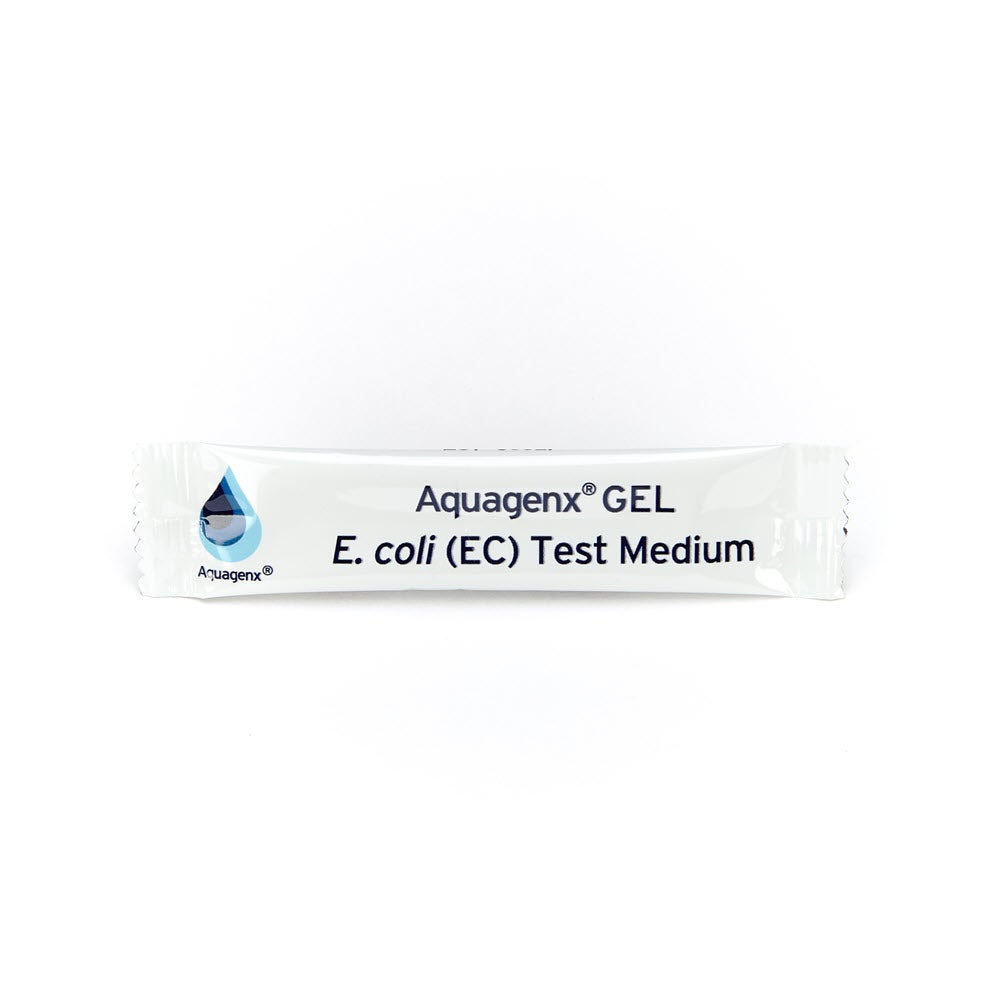 E. coli Medium
Aquagenx E. coli medium for GEL test dissolves quickly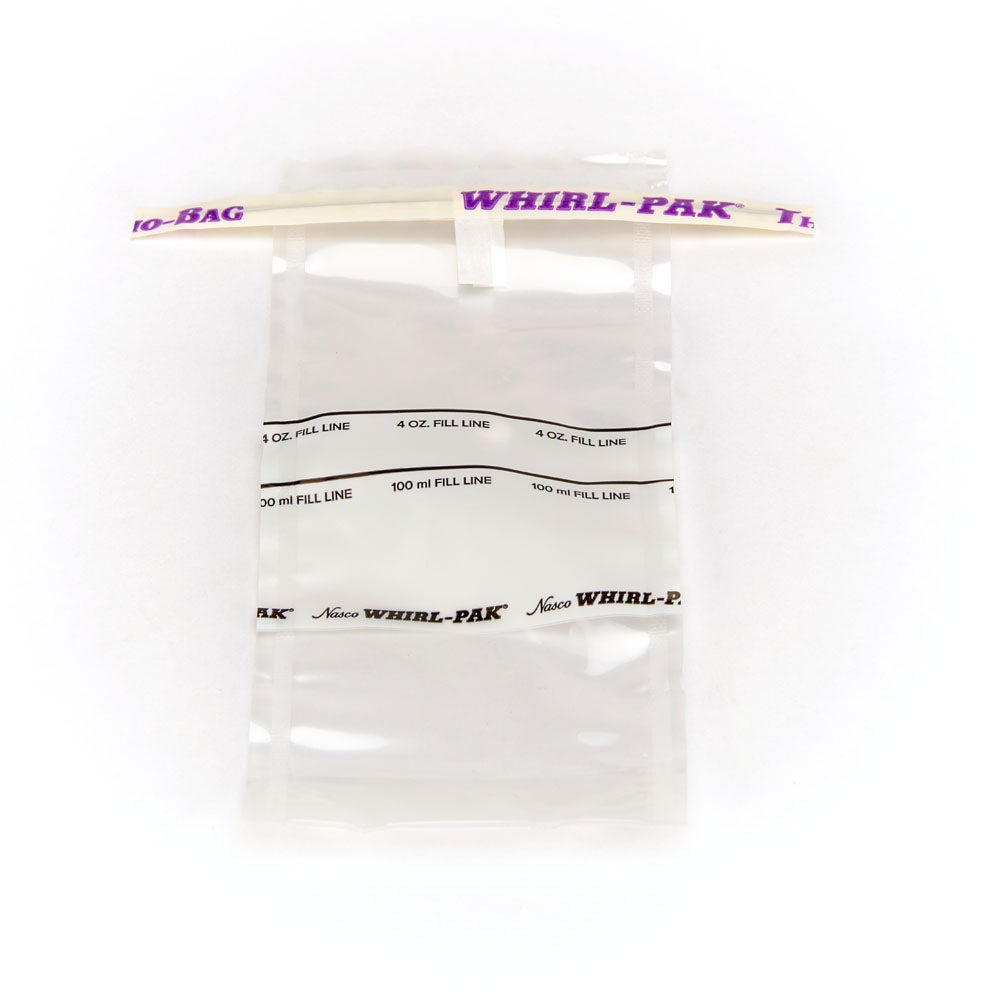 Whirl-Pak Thio-Bag
100 mL Whirl-Pak Thio-Bag for sample collection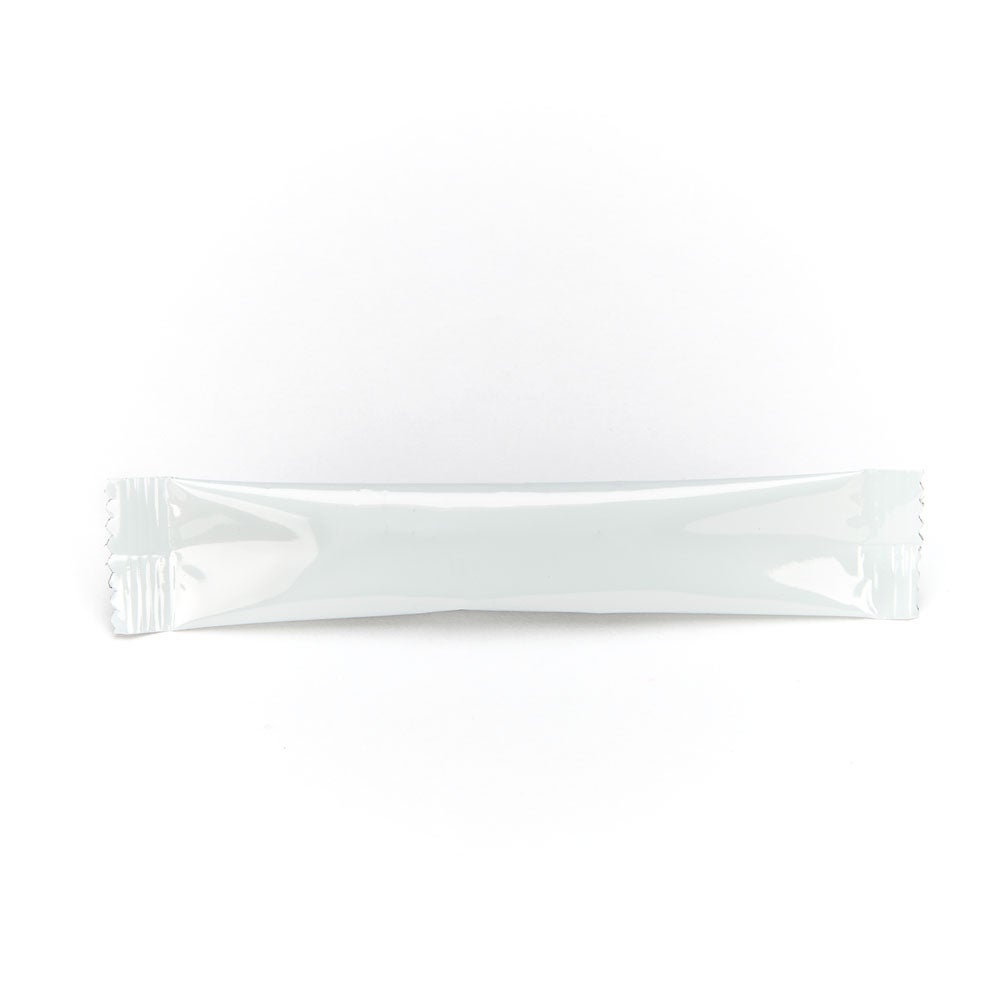 GEL Powder
GEL powder makes sample gelatinous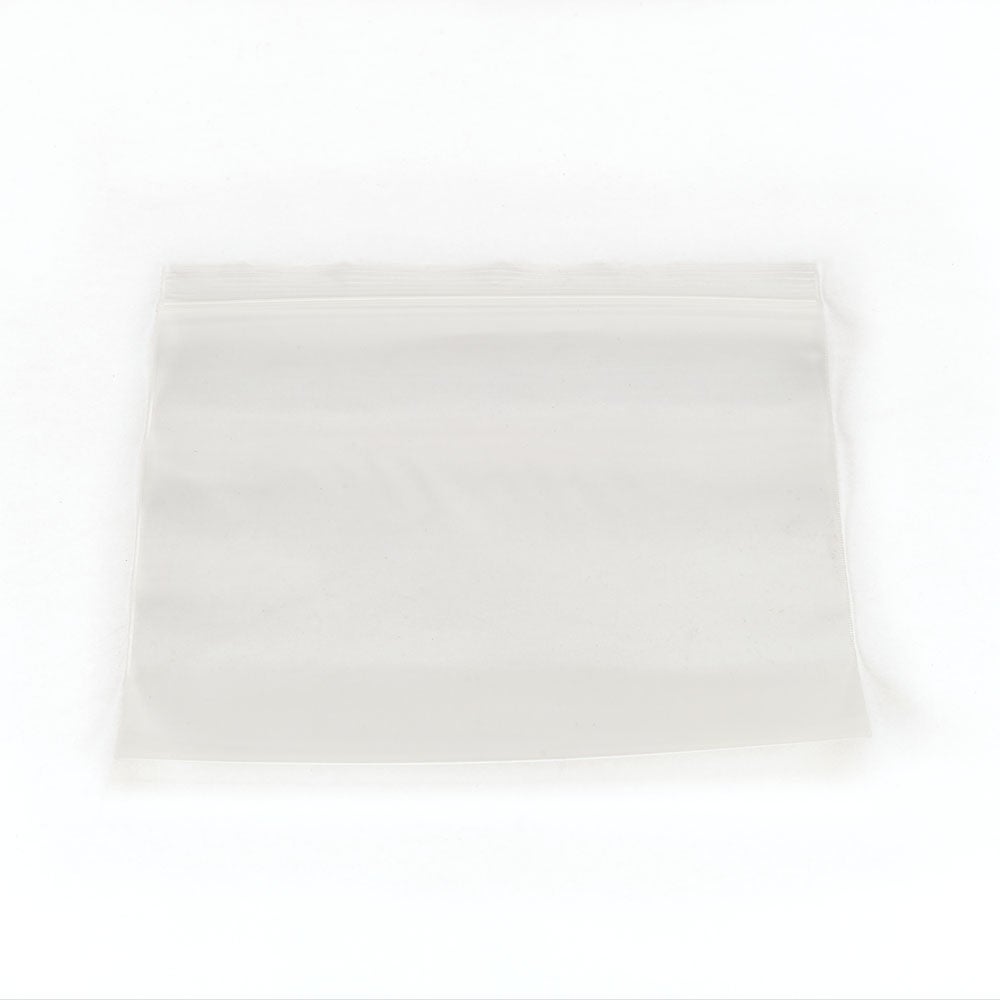 GEL Bag
GEL bag holds the sample during incubation period