Chapel Hill, NC – The World Bank has organized an informative event, "Water Quality Testing: Everything You Always Wanted to Know for Managing Water Safety." Dr. Mark Sobsey, an internationally renowned expert on water quality, is the speaker. The event is on October 5, 2016 from 1:00-2:30 pm Eastern Standard Time.
All individuals interested in water, sanitation and hygiene are invited to attend the free water quality testing event either via webinar or in-person at The World Bank in Washington, DC.
Water quality is a universal concern – from lead pollution in Washington, DC and Flint, Michigan to fecal contamination in poor, developing countries. Water quality affects development across sectors – from public health to nutrition, from agriculture to social resilience, from environment to natural resources and poverty.
However, the wide array of possible contaminants, testing methods and treatment options can be bewildering to researchers and project managers alike.
Dr. Sobsey will present on the importance of microbial water quality analysis in support of the United Nations Sustainable Development Goals and highlight key water quality parameters from a health perspective. He will also review innovative, practical water quality testing methods in low resource contexts and discuss emerging, alternative water treatment methods.
The water quality testing presentation will be followed by a short overview of recent applications of water quality testing in World Bank projects and research in Liberia, Nigeria and the Democratic Republic of Congo. The event will conclude with a question and answer session for you to ask everything you always wanted to know about water quality testing.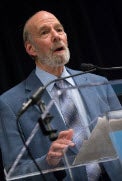 Dr. Sobsey is a prominent authority in environmental health microbiology and virology and in water, sanitation and hygiene. He is Kenan Distinguished Professor of Environmental Sciences and Engineering at the Gillings School of Global Public Health at the University of North Carolina Chapel Hill.
A primary focus of his research is combining microbial detection of pathogens in water, food and environmental media with human health effects. Dr. Sobsey's work quantifies disease risks and burdens, devises and evaluates interventions to reduce these risks, and uses this information to conduct risk assessments and inform policy decisions for risk management.
In addition, Dr. Sobsey developed the Compartment Bag Test (CBT), a portable water quality test that detects potential health risks in low resource and disaster/emergency areas.
Event Title
Water Quality Testing – Everything You Always Wanted to Know for Managing Water Safety
Date
October 5, 2016
Time
1:00 – 2:30 p.m. Eastern Standard Time
Cost
Free for both attendance options
Event Webpage
World Bank Webinar on Water Quality Testing
Event Contact Information
The World Bank Global Water Practice
Aude-Sophie Rodella, arodella@worldbank.org, or
Maximilian Leo Hirn, mhirn@worldbank.org
About the CBT Kit:
The Aquagenx Compartment Bag Test (CBT), is a simple, portable water quality test for E. coli. The CBT Kit generates easy-to-score, quantified, color-change test results. It is ideal for on-site testing in low resource and disaster/emergency areas. No electricity, laboratories, cold chain, expensive equipment or skilled technicians are required to use the CBT.