ChildFund Kiribati wrote the following story and graciously gave us permission to publish it on our website.
"Mary is a mother who was born and raised in Betio. She is married and has three young children. Mary is now 31 and is a full-time mother to her children. Her husband works abroad as a seasonal worker. Mary is very energetic and works hard for her children's health and well being. She has two daughters and one son; her daughters are 10 and two-years-old and the youngest is seven-months who is her son. Her oldest is in Elementary now and the other two stay with her at home.
When we first approached Mary's home as part of our household drinking water quality testing program, she was a bit panicked and afraid because she thought of what happened to her son the day before when he got diarrhea. Waterborne diseases are common in Kiribati, and this country has one of the highest infant mortality rates in the world, which can be attributed to infantile diarrhea.
Not only did Mary want her water tested at that time, but her brother and sister who live next to each other also wanted to test their household drinking water. Among them, Mary is the only one to have a negative result.
To perform the household drinking quality test, the ChildFund team is using simple and inexpensive technology that can test families' water – in their homes – on the spot. Once the ChildFund team had identified that Mary's household drinking water was contaminated, they discussed what needs to be done to maintain having safe water her children.
Mary could not hold back her feeling of joy. She even held the results of her contaminated water test up for others in the community to see. At this point, Mary stood up and waved her results, pointing for everyone to see. In her own word sshe said, "I am so happy to see my water result, this encourages me now to maintain water boiling." Mary never trusted the water that is used by most people here (from the public water source) as she thought that this water is contaminated. Now she knows she must take every precaution to ensure her family's drinking water is safe.
As a mother, Mary always worries about her children's health because she knows vomiting and diarrhea are some of the common sicknesses for children here in Kiribati. Through her participation in ChildFund's household programme, which includes information on nutrition, water and sanitation, and positive parenting, Mary now tries to prepare a balanced meal for her children, clean their bedrooms, and boils water for her children's kitchen utensils such as plates, spoons and baby bottles. She also mentioned one of her tasks is to remind her kids to wash their hands before eating. Mary is positive her oldest daughter can do this on her own but for her younger daughter she must help her do it.
Mary gives her gratitude to ChildFund programmes because she thought this is such a blessing for them to participate in every activity, especially as she was chosen to share her feelings and concerns. She gratefully expressed her gratitude especially about this drinking water quality testing visit because she thought this is so important for every young child here in Kiribati."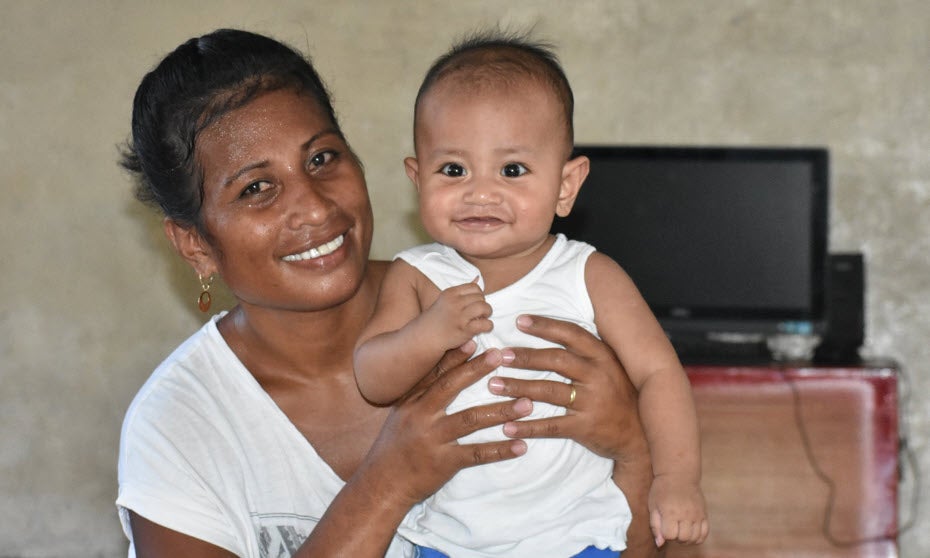 Mary with her youngest child age seven-months proudly shared her feelings on the ChildFund drinking water quality testing program