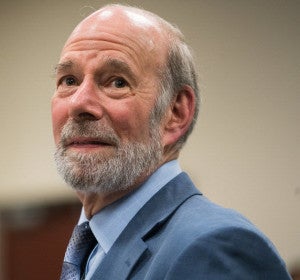 The National Water Research Institute (NWRI) published the lecture by Dr. Mark Sobsey upon receiving the NWRI Athalie Richardson Irvine Clarke Prize for excellence in water research. Download the PDF of the lecture.
The lecture is titled "Advances and Innovations to Achieve Microbially Safe and Sustainable Water: Detection, Treatment, and Risk Management." It contains a concise, informative history of microbial water quality testing and treatment, as well as Dr. Sobsey's recommendations for future actions to address enteric pathogens in water and wastes in the era of the Sustainable Development Goals.
The 2016 NWRI Clarke Prize Conference was held on November 4, 2016, in Newport Beach, California. It brought together scientists and experts from across the water community to discuss the most innovative research and technology developments happening today in urban water sustainability.
Presentations were given by NWRI Clarke Prize Laureates, representatives from local water and wastewater utilities and academics from various universities. The talks focused on managing and advancing sustainable water treatment technologies, resulting in an extended discussion on water resources that included theoretical concepts, basic science research, practical applications, and case studies.
The highlight of the event was the Clarke Prize Award Ceremony and Lecture in honor of Mark Sobsey, Kenan Distinguished Professor of Environmental Sciences and Engineering at the University of North Carolina Chapel Hill. Dr. Sobsey has been an international leader and pioneer in the fields of public health microbiology and environmental virology, with a focus on water, sanitation, food and hygiene. He also developed the Aquagenx Compartment Bag Test (CBT).