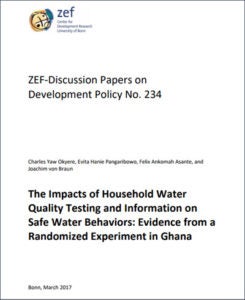 In this 2014 study by the University of Bonn, a group of 512 households relying on unimproved water, sanitation and hygiene practices in the Greater Accra region of Ghana were randomly selected to participate in the intervention on water quality self-testing and to receive water quality improvement information.
The Aquagenx CBT E. coli Kit was successfully and easily used by household members to self-test their water.
The study's authors say the data and results have implications for the Sustainable Development Goals, particularly on improvement in safe water behaviors and microbial analysis of water quality by providing practical experiences from resource poor settings.