mWater & Aquagenx Compartment Bag Test
Simple Digital Water Quality Monitoring
Water Quality Testing With Your Smartphone
Using the Aquagenx Compartment Bag Test for E. coli with the mWater Surveyor Mobile App simplifies water quality testing in the field. Data collection and sharing are made possible without complex water quality tests or paper-based data systems.
mWater features for the Aquagenx Compartment Bag Test easily lets you test water quality for E. coli in the field with your smartphone. 
Automatically calculate Most Probable Number (MPN) test results for E. coli in 100 mL sample
Automatically calculate Upper 95% Confidence Interval of sample results
Automatically calculate World Health Organization Health Risk Category of sample
Share test results in real-time
Create maps and visualizations of Compartment Bag Test water quality data
Geocode test results with smartphone GPS
Create your own surveys using the CBT or use mWater's built-in surveys
Combine test results with other survey questions
mWater and the Compartment Bag Test
There are two ways for mWater users who monitor water quality with the Aquagenx Compartment Bag Test to integrate this custom question type into their work:
Use the standard form included in the mWater Surveyor app, select "Start a Survey" with the add or plus sign icon at the bottom of the screen. Select Aquagenx Compaprtment Bag Test.
You can also include this question in any form built in the mWater Portal by selecting it as a question type.
Additional resources: Getting Started with mWater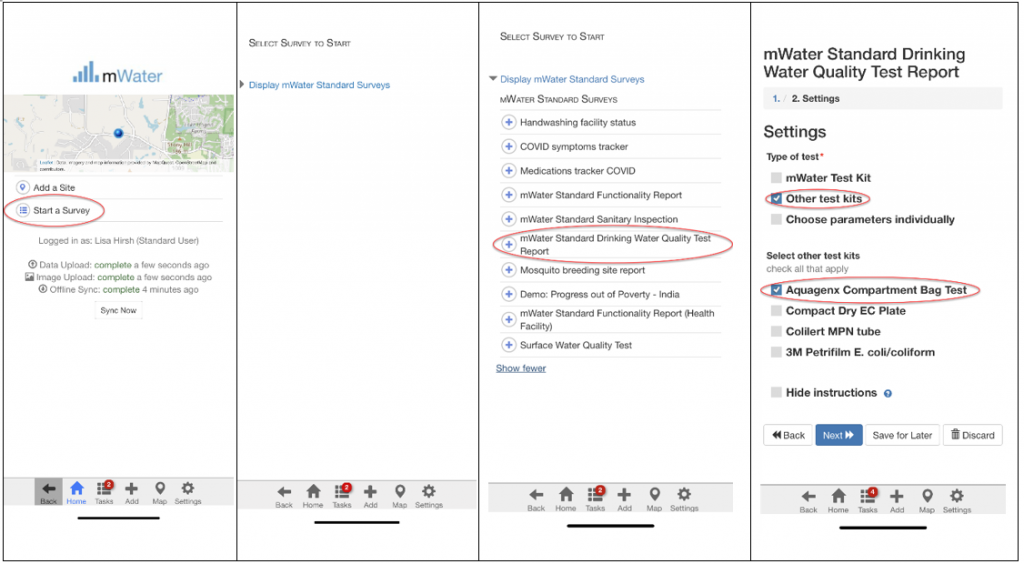 Get the mWater Surveyor Mobile App
About mWater
mWater is a free, open source data platform for managing projects in water, sanitation and health. It simplifies water quality testing data collection and sharing by using mobile technology billions of people around the world own – smartphones. With smartphone GPS and cameras, mWater users can map and monitor anything, perform mobile surveys and share test results in real time.