No other commercially available microbial water test provides the same convenience, simplicity and portability:
Portable – compact and lightweight
Simple – anyone can use with little training
Self-contained – all supplies included
Cost effective – no need for electricity, labs, cold chain, specialized technicians
WHO standard sample – 100 mL volume
Built-in decontamination – includes chlorine tablets
Ongoing Water Quality Monitoring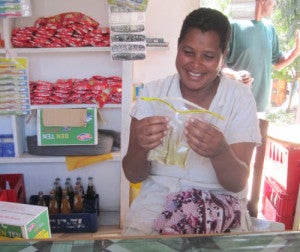 All the investment in the world to improve water access does not help if water is not regularly monitored for quality to ensure it remains safe to drink and to teach populations to adapt behaviors that keep water uncontaminated.
Just because water looks clean does not mean it is safe to drink. A water source looking clear does not guarantee water is free of bacteria that causes illness, disease and death. If you need to know water is truly safe to drink, the CBT is the test you need.    Learn more→
Versatile Microbial Water Quality Test Kit
Meets World Health Organization (WHO) 100 mL standard volume for microbial water testing
Completes testing in simple steps
Generates easy-to-score, visual, color change results
Works in-the-field and on-site in low resource and disaster settings
Enables ambient incubation between 25-44°C
Provides complete supplies and built-in decontamination
Cost Effective and Value Laden
Eliminates costs for electricity, cold chain, sample transportation, lab sample analysis, specialized technicians
Removes requirements for supporting equipment or materials
Removes need to clean and sterilize reusable testing components
Reduces  test waste for decontamination and disposal
Allows individuals and communities to make informed decisions about water safety and quality
Validated Around the World
The CBT microbial water quality test is used on nearly every continent in a wide range of conditions, including low resource settings without electricity or cold chain, difficult terrain and little-to-no infrastructure.
Tested extensively by independent  parties against other standard testing methods, the CBT gives results on par with more complicated, expensive and less portable tests.
Our customers have used thousands of CBTs in-the-field where they obtain similar, successful results.